07 Jul

5 Regulations You need to Know Before Launching a Cannabis Advertising Campaign

The cannabis industry is booming: It's expected to post $20.2 billion in sales by 2021. As of April 2017, eight U.S. states, plus Washington D.C. allowed adult-use recreational cannabis usage, while 28 had medical marijuana programs. Despite this progress, regulations on marketing and advertising for have forced dispensary owners to adopt creative ways to drive sales and grow their business.

Because the cannabis industry is constantly in flux, rules are changing rapidly. That's where interactive digital signage steps in. From real-time analytics to customized content, interactive digital signage helps dispensary owners adapt and react accordingly.

To help deconstruct the complexity of regulations, here are some specific, state-by-state rules you should know before launching a cannabis advertising campaign—and how interactive digital signage can help grow your bottom line.
1. Billboard Location
The law: AB-64 Cannabis: Medical and Nonmedical
The gist: Under California Proposition 64, it is illegal to advertise or market cannabis within 1,000 feet of a K-12 school, day care center, youth center, or playground.
What it means: This straightforward regulation shouldn't come as a surprise to most advertisers and marketers. However, it does require them to be strategic with advertising placement. While advertisers must comply with several specific regulations on messaging and imagery (see below), they must also be deliberate with which billboards, signage, and other physical mediums they choose—and where they place them.
2. Free Giveaways
The law: AB-64 Cannabis: Medical and Nonmedical
The gist: This California regulation, also found in Proposition 64, prohibits advertising or marketing campaigns that "give away any amount of medical cannabis or medical cannabis products, or any medical cannabis accessories, as part of a business promotion or other commercial activity."
What it means: This regulation also shouldn't come as a huge surprise. Much like certain states regulate social media sweepstakes that involve alcohol, guns, or tobacco, it's important for advertisers in the state of California to avoid any campaigns that involve free giveaways.
3. Intentional Imagery
The law: R 1101 – Labeling and Packaging Requirements: General Applicability
The gist: According to this Colorado regulation, "packaging may not be designed to appeal to children." Furthermore, packaging for all products, including flowers, edibles, and concentrates, may not portray cannabis in a way that "specifically targets individuals under the age of 21," which includes the use of cartoon imagery.
What it means: In the same vein that retailers must comply with childproof, resealable packaging laws, all cannabis advertisers must ensure that campaigns blatantly reference marijuana. In other words, they must be unambiguous and make it clear that cannabis is being advertised. As a rule of thumb, advertisers should err on the side with caution. Brand logos, copy, and innocuous imagery should be the go-to for advertisements—no matter what type of product you're selling.
4. Medical Advertising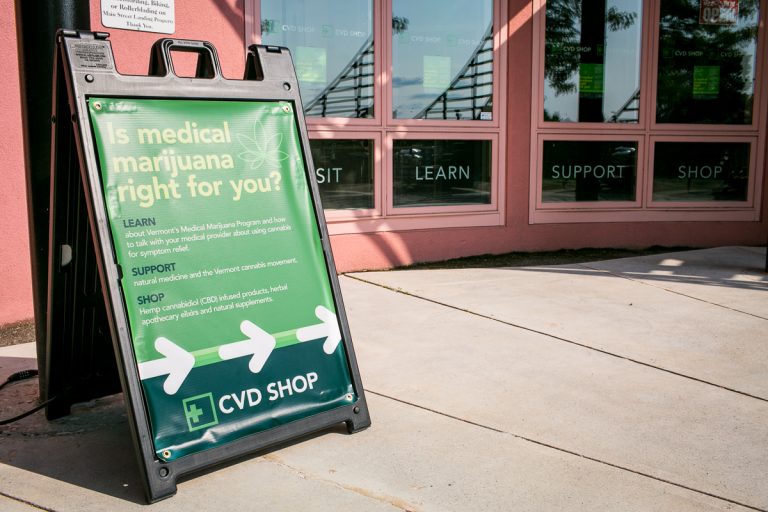 The law: 105 CMR 725.105
The gist: According to Massachusetts state regulation, all advertising material—statements, designs, pictures, illustrations, and so forth—produced by a registered marijuana dispensary must be portrayed as medical. Furthermore, the state prohibits any portrayal of marijuana usage, "for any purpose other than to treat a debilitating medical condition or related symptoms."
What it means: As this regulation suggests, it's important for marketers and advertisers to know the difference between medical and recreational usage when generating advertisements. According to Medical Marijuana Inc., approved medical marijuana conditions in Massachusetts include:
Cancer
HIV/AIDS
Glaucoma
Hepatitis C
Crohn's disease
Multiple Sclerosis
Parkinson's disease
Amyotrophic Lateral Sclerosis (ALS)
All advertising material in the state of Massachusetts must be portrayed as treatment for one of these recognized diseases. And above all, cannabis campaigns must portray responsible medical usage.
5. Digital Exposure
The law: AB-64 Cannabis: Medical and Nonmedical – Chapter 15 Advertising and Marketing Restrictions
The gist: This California regulation states that all advertising or marketing campaigns across broadcast, cable, radio, print, and digital mediums must be displayed where at least 71.6 percent of the audience is "reasonably expected to be 21 years of age or older, as determined by reliable, up-to-date audience composition data."
What it means: Like the aforementioned regulation that prohibits physical advertisements within 1,000 feet of minors, this California ruling is also designed to reduce unintentional underage consumption. Unlike physical mediums, digital media, including touchscreens, digital signage, and other web-based campaigns, feature robust tracking capabilities that provide businesses with direct insight into who's engaging with what ads. This helps measure both immediate consumption and long-term impacts, so ads are catered to the right people at the right time.
What Do These Regulations Mean?
As advertisers and marketers, you're already cognizant of smart messaging and appropriate ad placement. You know how to craft effective creative. And you know how to leverage the right mediums and media to get your messages in front of the right eyes.
It's true that the cannabis industry requires extra dexterity; however, despite the stringent regulations, navigating it is entirely possible. Cloud-based, interactive software enables you to create industry-specific messaging and manage your apps remotely, so dispensary owners can update content to comply with regulations.
Similarly, interactive digital signage software provides organizations with in-depth analytics so dispensary owners know exactly who is consuming what advertisements—and so they can provide customized messaging.
Because customized experiences increase sales by up to 20 percent, dispensaries can leverage interactive tools to boost their bottom line. Dispensary owners ensure their marketing and advertising efforts are compliant. Sales increase. It's a win-win situation.